27 July 2015
"Humane Society International" is one of international organizations that works hard to protect lives of all species of animals around the world and fights abuse and torture of them, and has endeavored great achievements in numerous countries around the globe.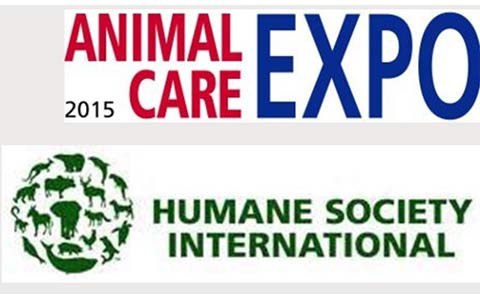 Currently, they are involved in projects in countries such as; Bhutan, Brazil, China, Haiti and Mexico, and have established bases in five continents. One of their most important projects is, Animal Care Expo, which is held in the US and thousands of animal lovers and experts and organizations attend, exchange ideas, information and experiences. The goal of this expo is to better the lives of all animals who suffer in the hands of humans and lose their lives in this unfair battle.
In 2007, Mrs. Motamdi, only five years after founding of Center for Animal Lovers (CAL)/Vafa Animal Shelter, started a dialog with directors and advisors of the Humane Society in order to bring attention to the first shelter for animals in our country.
This spring, Animal Care Expo was held in New Orleans, Louisiana. Afsaneh and Parsa Zarrin, attended the expo as representatives of Center for Animal Lovers/Vafa Animal Shelter in order to introduce the center and the shelter, and bring attention to their challenges and achievements.
Through communication with attendees from other countries, it becomes apparent that humans have exploited and ignored the rights of animals for the longest time around the world. Fortunately, animal rights activists and organizations are working hard to change this condition by educating people and teaching them more peaceful and respectful ways to co-exist with animals.
In one of the workshops Dr. Joann Lindenmayer (Senior Manager, Disaster Services/ Humane Society International) presented "A Decade of Lessons Learned in Disaster Management" which was about saving animals in natural/man caused disasters. In Q&A at the end of her presentation, Parsa Zarrin (from CAL/VAFA, Iran) told the audience about a precious Iranian lesson in a natural disaster. He described how "Dooman" (a search and rescue dog serving at Iranian Red Crescent) could change the attitude of people who hated dogs, after he rushed with his trainer to save the victims of a strong earthquake in Varzighan in north-west of Iran. That story touched the hearts of audience and made them aplaud "Dooman" the Iranian hero dog, by clapping.
The simple fact that thousands of people from around the world attend this expo proves that the issue of animal rights is a global matter and every country should take an active role as well as uniting together to prioritize lives of other species.
A topic that was emphasized upon even more than ever before was humane ways to control the population growth of stray and homeless animal. Some researches show that mass killing of these animals may have a negative effect on the numbers.
Scientific researches show that vaccination and spay/neutering of stray urban animals is the most humane practice for keeping the population of these animals under control as well as protecting the public health, and in the long run there is no need for mass killing nor shelters.
We hope that animal rights groups and environmentalist can unite forces with city authorities, governmental organizations and also veterinarian societies and animal lover groups and NGOs in our country to bring us a globally respectful status.
Photo caption:
1- Visit and conversation between Mrs. Motamedi and Dr. Bernard Unti
(Senior Policy Adviser and Special Assistant to the President & CEO of HSUS) in 2007
2- Representatives of CAL/Vafa at Animal Care Expo, 2015, Ernest Morial Convention Center, New Orleans, Louisiana
3- Representatives of CAL/Vafa visiting with Dr. Unti at Animal Care Expo 2015, New Orleans
4- Representatives of CAL/Vafa at Animal Care Expo 2015, New Orleans
5- Representatives of CAL/Vafa amongst numbers of managers and attendees at Animal Care Expo 2015, New Orleans
6-7- Workshops at Animal Care Expo 2015, New Orleans
8- Dr. Joann Lindenmayer (Senior Manager, Disaster Services/ Humane Society International), presenting "A Decade of Lessons Learned in Disaster Management"
9-"Dooman" (a search and rescue dog serving at Iranian Red Crescent) and his trainer