Kaanaapeh (meaning Couch)
Kaanaapeh was very small and young when he came to the shelter, where he stayed all his life.  The shelter was full of big dogs, and Kaanaapeh was petrified of them.  That is why he would always find a kennel which he could crawl to the very end and sleep.  No doubt, he wished he could be with his mother and play with the rest of his litter, but he had no idea where they were and how to find them.
His lack of activity due to his isolation resulted in his extra weight.  The shelter had many dogs and somehow this problem was overlooked until a young volunteer took notice of him.  The volunteer was kind and had a lot of patience, but his attention and encouragement could not reduce Kaanaapeh's anxiety.  One day the young man crawled into the kennel, gently and kindly placed him on a wheelbarrow and took him for a walk with another dog named "Gary".
Kaanaapeh was seeing the fields after such a long time in seclusion.  Other dogs wagged their tail and came to greet him, some sniffed and talked to him in doggy language.  This routing continued until Kaanaapeh overcame his fear and made friends with other dogs.  That was the beginning of his normal life at the shelter.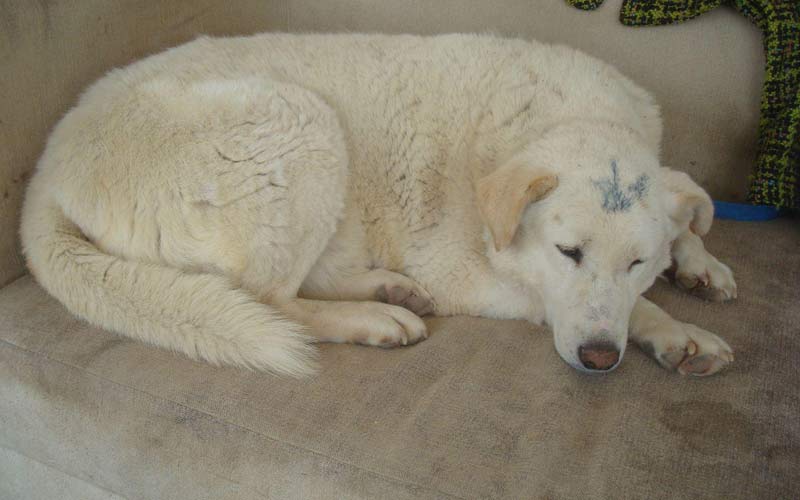 Kaanaapeh spent all his life at the shelter and although his life was not so bad, it felt that he always dreamed of a home and a family who could care for him and accept him as one of their own.
At the end of his life, Kaanaapeh lost a lot of weight due to old age, back problems and also gastric problems. Even though Kaanaapeh was battling these issues, he was a very famous dog at the shelter. Everyone loved him and made a lot of effort to make his life comfortable.
However, Kaanaapeh's greatest wish was never fulfilled, and no family ever took him home with them.
Many good people participated in this rescue case.
Anonymous heroes who do not remain indifferent when they see pain and suffering of animals and helped courageously.
Would you be one of these people?
Fatemeh Motamedi