Sunday, 02 May 2010
Those friends who have visited Vafa Shelter within the past couple of years are familiar with Patris.
He is a large black male who lived in a house in Mehrshahr (Karaj) until two years ago. And for unknown causes to us at the time, his left arm was severely hurt including fractures as well as deep wounds. He was transferred to our shelter in that condition. His recovery was long and slow. During that time we realized that his right arm and one of his legs were badly damaged as well.
We assigned him to a private den and bedding. Though the door to his den is always open he rarely gets out. Only at the time of cleaning he would reluctantly step out.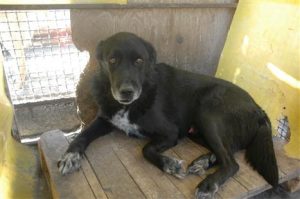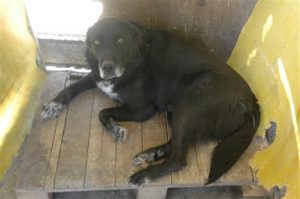 He wouldn't even come out to eat on his own. We either took the food to his den or Mr. Gholam would pick him up and bring him out to help him eat.
After studying the latest X-rays, Dr. Abedi agreed to perform surgery on Patris regardless of the long and difficult process.
On Sunday Ordibehesht 13th (May 2nd),  Mr. Karam transported him to the Veterinary Hospital. The necessary x-rays revealed that his wounds were caused by over 15 BB gun pellets, which have been embedded in his bones for a long time.   
He will be staying at the clinic until they start performing the several procedures/surgeries that need to take place.
This requires financial aid from our supporters.
Vafa Shelter is a non-governmental charity that relies solely on private support from kind and generous donors and volunteers.  Our shelter has made great strides over the past few years, but there is so much more to be done—including Patris's upcoming surgeries.  Please consider making a contribution.
Thursday, 08 July 2010
Update on Patris
Dear old Patris was returned to the shelter, after two months at the Saadat Abad Veterinary Clinic.  During this time, he underwent a series of crucial surgeries on his legs by Dr Abedi, and was cared for by his kind staff.
For those of you who are just reading about Patris, his story was posted on our website back in May:  http://cal.ir/main/en/latest-news/27-patris-surgery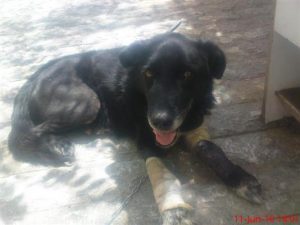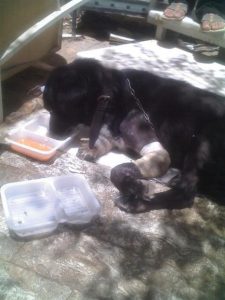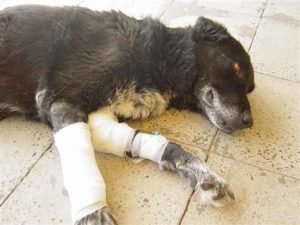 Dr. Abedi recommended for Patris to move back in to the shelter to be near other dogs.  He is still unable to walk, but as soon as the sores are healed, he will start physical therapy in the pool as recommended by Dr. Abedi.Patris is currently residing in a kennel next to another dog who was recently rescued with almost the same kind of injuries.  She was named Patricia (after Patris).  Patricia was taken to Dr Abedi. He does not yet recommend surgery until she is physically stronger. At the moment, they're both under care of Mrs E and her dedicated staff. Their kennels are constantly disinfected and cleaned to avoid infections. It is extremely hot at the shelter, so as you see, they're avoiding putting blankets/sheets under them, to keep them cool.Our sincere gratitude goes out to the amazing Dr. Abedi, who heals our injured dogs, no matter how bad the situation.  Patris' surgery is a perfect example of his selfless efforts towards the shelter dogs. We also would like to thank the kind staff of Saadat Abad Vet Clinic, who have taken such good care of our Patris.May there be a day that God's Creatures are safe from bullets and other abuse by humans…
Tuesday, 27 July 2010
  Latest on Patris
Ever since Patris came back from the hospital, I have gone to his den every afternoon to change his bandages. A process that takes between 30 to 45 minutes. Usually, Akbar, the new help or someone else comes to help me with it.
On the first few days Patris did not show any reactions. Today for the first time he showed signs of discomfort, let me know it hurt and even got up to get away from me. As much as it hurt me to see him in pain, it was heartwarming to learn that all his four legs are getting their feeling back and he can use them. I hope to start his physical therapy as soon as next week.
In the meanwhile, his roommate, Miss Patrisa, is settling in and shows excitement to see me behind the door and wants to play.
Patrisa had the same injuries as Patris and we are getting her ready for her surgery.
 With thousands of thanks to Dr. Abedi,
Lida E.