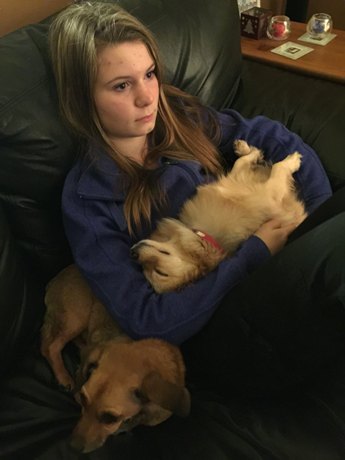 Adopted by McCormick Family – Sept 5, 2015 – Delta, BC, Canada
Sibby is doing very well and has fit into our family exceptionally. We did keep her name as it suits her and she responds to it (most of the time – unless distracted by the falling rain drops that she seems to love!)We discovered that she loves the water! She often showers with my daughter, even if just to sit at the end of the tub catching drops.
When it rains outside, she searches out every puddle to play in. I have never had a dog that enjoys the water so much! We always laugh when she puts on her 'turbo boosters' to run through the puddles:)She gets along very well with our other two dogs and even our cats. We do have to watch her with the rat as she tends to nip at him but he is in his cage most of the time anyway. She just gets very excited when he is out.She really enjoys her walks and loves to visit all the dogs at the various off leash parks we visit. Sometimes I think she is a little sad that she can't go all the places our other two dogs go, but she does what she can.We are very grateful to have her and my daughter is doing a great job caring for her. Sibby sleeps with her every night (the other two dogs sleep in a crate together, but Sibby gets special treatment as she is my daughters). My daughter sewed her a new big fluffy pillow and made her a squeaky toy as well, so it has been great to see how she has taken on the responsibility.
McCormick Family & Sibby